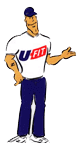 It is advised that when deciding how much flooring you need to order you start with drawing a simple sketch of your room. Measure your width and length in centimetres and metres, and add these measurements to your plan.
Remember to add in your doorways especially if the flooring is to be run through to another room or you need to order door bars.
If measuring a square or rectangle room, your measurements would be width x length. For example: 2 metres x 4 metres = 8 square metres.
For L shaped rooms divide the room into two areas and work out each area individually.
Measuring straight stairs
To measure straight stairs start at the base of the top riser (see illustration) and continue down to the base of the bottom riser. Record the number of steps and the measurements taken.
Overall measurements should be taken as well as measurements of individual steps. 7.5cm should be added to the overall length of each complicated/winder stairs.
If measurements are taken on uncarpeted stairs, 2.5cm per step should also be added to allow for the underlay.
In addition to the 2.5cm per step an allowance of 50cm should be made for shifting purposes.
The additional amount of material to enable periodic shifting of the carpet to equalise the wear of straight stairs and consider ordering additional carpet for complicated stairs where moving the carpet is not possible.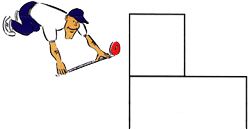 Measuring kite winder & spiral stairs
Where it is necessary for stairs to change direction, special stairs called kites and winders are used instead of landings. They are usually in sets of three, two winders and one kite. Each kite and winder has to be measured.
The important rule in measuring this type of step is to ensure that the maximum dimensions of the stair are measured and also when planning that the pile direction is at 90o to the nose of the stair.
To measure spiral or kitewinder stairs measure along the largest lines both length wise and width wise.
As for straight stairs 2.5cm on the length should be added for take up of the underlay and a further 7.5cm on the width to allow for trimming.
If the carpet requires turning under to avoid a raw edge at the newel post an extra 5cm should be added to the width dimension.